spring 2016
Table of Contents
Return to Home Page
Introduction
Year In Review

Starling Advice

Amie Whittemore
air mattress

the clinic printed off a calendar

B.J. Best
Yohako No Bi

Miki Fukuda
Ottawa Hospital: Eating Disorder Ward

Fan Palms

Mallory Tater
Head Shot

C. Wade Bentley
A conversation with a massage therapist

Francine Cunningham
Unavailable

On Buying a Second Pair of Birkenstocks

Pamela Mosher
All Bones Hunger a Home

Algonquin

Ashley-Elizabeth Best
I Saw the Best Minds of My Generation

Christopher Evans
Chou Chou

Adele Barclay
There's So Much to Tell You

On Some Good Days

Alison Braid
Introduction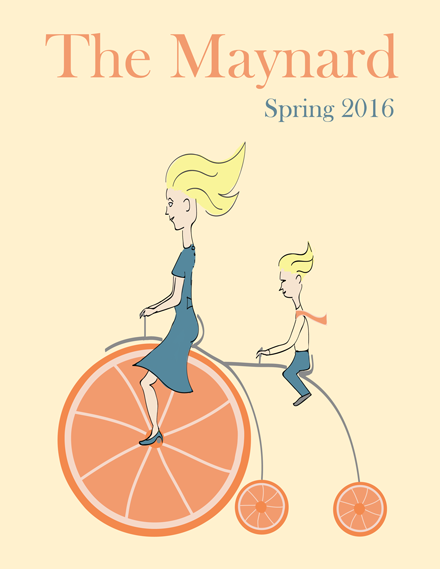 Cover art by Link Nicoll
Each issue of The Maynard has been for us a journey of discovery. On this journey to our 24th issue, we walked alongside sixty poets through a landscape of nearly 300 poems. As those works that would become this issue revealed themselves to us, we parted ways with many authors whose poems moved us deeply, but could not find a home in this collection. To all of you: we are grateful for the time we spent together before our paths diverged, and we hope you will walk with us again.
The thirteen poets and nineteen poems that we now present to you are not simply the ones that stayed with us — they stayed united. These are the poems that came together, and whose harmonies wove through our journey and through each other.
We are excited as well to announce that this issue of The Maynard sets a new record for audio recordings; seventeen of the poems in this issue have an accompanying recording.
A special thank you to Link Nicoll, whose charming cover Citrus Cycle tied our journey together, and brought us home.
It has now been three years — six issues — since The Maynard re-launched in the Spring of 2013. Over the past three years, we have had the privilege of reading nearly 2,000 submissions from close to 500 poets from around the world.
To all of you, old friends returning and new friends we have yet to meet, welcome. We trust you will find in these pages old truths that will surprise you with their newness, and new ideas that will fall into place like well-worn beliefs. Stay with us a while, and then join us on our new journey through the summer as we make our way to October and to the 25th issue of The Maynard.
Raoul Fernandes, Mark Hoadley, Ram Randhawa
editors, The Maynard
Spring 2016