spring 2017
Table of Contents
Return to Home Page
Introduction
Aztlan Travels Emiliano Sepulveda
Prayer For Our Past Selves

Esther McPhee
A Coke and a KitKat

Spenser Smith
Scare

Taylor Supplee
Inside My House

Gleaning Stones

Onjana Yawnghwe
Ruler

Alyssa Cooper
Dear Miss Parker

Dear Mama

Chelene Knight
Constantly Looking, Admitting Nothing

Paul Douglas McNeill II
We Could Have Called Him Joe, We Didn't

Juliane Okot Bitek
box cars paper plates annie ross
Red Sarongs

Clementine

Chelsea Comeau
To Kill a Fly

Beaton Galafa
First Loves in Brevoort Park

Body Analysis

Erin Hiebert
The Lady or the Tiger? Michelle Brooks
from Glossary of Musical Terms rob mclennan
Cambium

Daniel Barnum
Singing in Dark Times

Bhaswati Ghosh
Attention

Lindsay Miles
Romeo, Romeo, WTF?

P.C. Vandall
from Electric Garden

Amanda Earl
Straight Waiting

Sugar le Fae
Introduction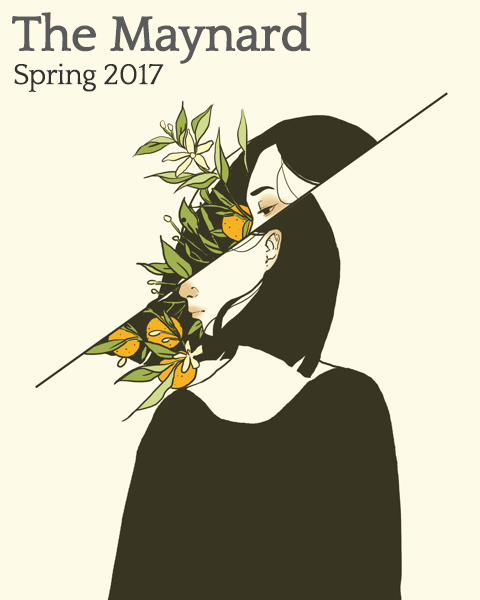 Cover art by Phuong Nguyen
Welcome, dear Reader, to the Spring 2017 issue of The Maynard.
A few months ago, we implemented a new submission platform. Our submissions are growing—thank you!—and by implementing Submission Manager, we made it easier for us to keep track of poems and art submitted to each issue. And, we hope, the new platform improves the submission process for the poets and artists sending us their work. We've also made a few updates to The Maynard's website; have a look around when you check out the latest issue. With these exciting developments, our four-person editorial team has built a spring issue that we hope will stimulate your eyes, ears, minds, and hearts as much as it did ours while preparing it for you.
This issue features 24 diverse voices chosen from over 300 poets—that's 1000+ poems!—who supported The Maynard and the poetry community by submitting their work. Selecting which pieces to publish is never easy, but always worthy. As editors, we have a Sisyphean responsibility to check biases at the door—or to at least be aware of and sensitive to our own and others' proclivities—when reading submissions. Once the editorial team finishes wrangling and the dust settles on a shortlist, then comes an equally difficult task with its own challenges: molding an issue that will showcase a range of independent voices and styles nudging, winking, whispering, and shouting out to each other, as a group, as an issue. The second step is bittersweet. On the one hand, it's a joy to feel the poems coalesce into a weird, wonderful issue. On the other hand, we reluctantly have to let go of pieces we love but, for whatever mysterious reason, don't seem quite right in the collection.
For the Spring 2017 cover art, we've selected Phuong Nguyen's compelling graphic from a shortlist of eight original "orange" images. Nguyen's sharply defined lines and the fissure separating self from self, complement the work featured in this issue. The image also speaks to poetry and language in general: the desire for precision and the slippery reality at play in representation.
With this in mind, we invite you to spend some time with The Maynard in the worlds offered by the poets we're thrilled to feature. In Paul Douglas McNeill's "Constantly Looking, Admitting Nothing," we glimpse at the tender surface of the quotidian and wonder about the nothing beneath another's questioning gaze. Alyssa Cooper's work has a similar matter-of-fact tone, but addresses a violent and violating relationship. A wholly different poetic universe is opened up in Emiliano Sepulveda's concrete, diagrammatic poetry. Here, myth and politics are schematized, putting basic assumptions about time and space into question. A surreal chill pervades Onjana Yawnghwe's "Inside My House," and in Michelle Brooks' "The Lady or the Tiger?," substance and presence seem to be governed magically, whimsically. Check out Beaton Galafa's delightfully dark "To Kill a Fly." Is it instructional or…? Find out for yourself, dear Reader. Check out, read, listen to, and reread these and 18 more poets who, explicitly or implicitly, are saying something important about the worlds we live in, how they can make and break us, and the unique ways in which poetry helps us think about the world and know each other.
Happy reading and listening,
Nick Hauck, Jami Macarty, Ram Randhawa, & Zoe Dagneault
Editors, Spring 2017 issue